Portland Business Journal posted NEPC Private Wealth consultant Kate Ball's article on heirs & wealth.
Family wealth brings security, opportunity and freedom from having to work to pay bills. But without the usual financial pressures, how do you teach your children about money, work and personal responsibility? How can you help them foster a sense of purpose?
We work with many families, and while each family is unique, we've found some successful techniques for helping prepare the next generation for the opportunities, responsibilities, and challenges of wealth. We want families to support these practices because having a sense of purpose is instrumental to finding success and happiness.
Family fundamentals
It's never easy to educate young people about money and the adult responsibilities that go with it. There are so many questions a family must face. How will the family's wealth impact the heir's personal sense of responsibility? What is the right age at which to introduce the next generation to their role within the family and family office? And importantly, how do you educate them about the complicated world of investing into which they have been born?
Every family needs to plan for this challenge, because the stakes are high. The well-being of your children is most important, of course, but there's also the question of how your family's wealth will be put to use, and whether organizations you support can count on your family over the long term.
Fortunately, there's a simple 1-2-3 structure you can rely on to help put your heirs on the right path.
1. Start with informal discussion
The abstract, long-term nature of wealth management is not a great fit for children under 15. But you can still help them by talking – informally – about the money issues your family faces. Get comfortable talking regularly about important money decisions and how you make them.
2. Plan for formal education
Once your heirs reach their teens or early 20s, it's time to introduce some formal education about financial and investment issues. Though they may get some of this education from school and life experience, you should plan to guide this education yourself.
3. Give them opportunities to practice
Once your children become young adults, help them practice their emerging decision-making skills by involving them in specific financial choices or conversations.
Areas of focus
Using these fundamentals, we believe the following three areas of focus are effective in fostering purpose.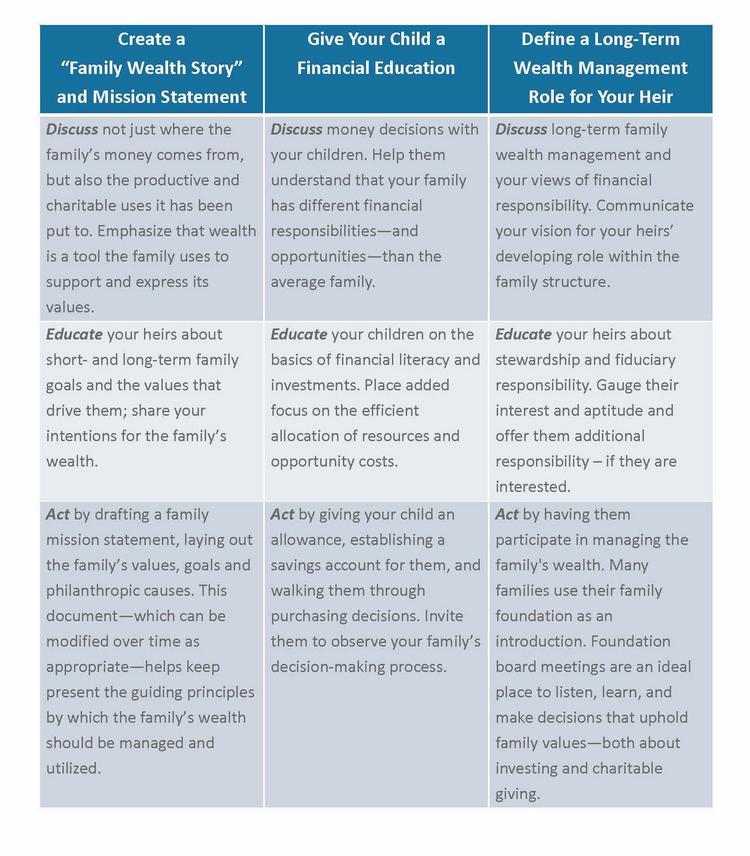 Your advisor can help
Look for an advisor to help educate your heirs and prepare them for future responsibilities. General financial literacy classes may not have the depth needed for wealthy families, so advisors can provide education sessions to cover wealth issues in more detail, including asset allocation and manager selection, as well as more advanced investment topics such as alternative assets.
However, not every child has great enthusiasm for financial matters. Some may never be interested and, if that's the case, it's a good thing to know early.
The nuances of each individual family can vary greatly, and there are many approaches to bringing up the next generation. But there are common areas of focus. By establishing and communicating your family's framing values, building a foundation of respect and appreciation for wealth, and taking education step by step, you can guide your heirs to successful stewardship of your family's legacy.
NEPC provides investment advice to qualified individuals and families, as well as traditional institutional investors. Please reach out for more information.
NEPC is a private, employee-owned investment advisory firm founded in 1986. Our research-driven investment solutions are tailored to support your unique financial goals, constraints, beliefs and time horizons. As trusted and thoughtful stewards of capital, we measure our accomplishments by the success of our clients. Visit us at www.nepc.com.
Disclaimers and disclosures:
Past performance is no guarantee of future results.
All investments carry some level of risk. Diversification and other asset allocation techniques do not ensure profit or protect against losses.
The information in this report has been obtained from sources NEPC believes to be reliable. While NEPC has exercised reasonable professional care in preparing this report, we cannot guarantee the accuracy of all source information contained within.
The opinions presented herein represent the good faith views of NEPC as of the date of this report and are subject to change at any time.
Kate Ball, consultant – private wealth, has over 15 years of experience advising ultra-wealthy individuals, families and family offices in managing all aspects of their investment portfolios. Ball lives with her family in Lake Oswego, Oregon.
